Why
Education is the primary means of building and regenerating society.
Highly educated refugees can become leaders in their communities, creating businesses and social enterprises, or becoming engineers, scientists and technology specialists. Increasing opportunities through creativity, flexibility and strategic partnerships is, therefore, a priority.
How
We commit to work towards common advocacy, strategies and operational frameworks to expand tertiary education opportunities as a durable solution for refugee students by creating a platform that for Refugees (ETENR) that will be supported by the Global Taskforce on Third Country Education Pathways.
Commitment
The network will be composed of trans-sectoral and multi-stakeholder approaches commit to respecting the Minimum Standards for Complementary Education Pathways in areas of protection and safeguarding, applications and admissions, funding, integration and psycho-social support.
MANIFESTO ON EXPANDING REFUGEE TERTIARY EDUCATION PATHWAYS IN EUROPE
who
Proponents of the Manifesto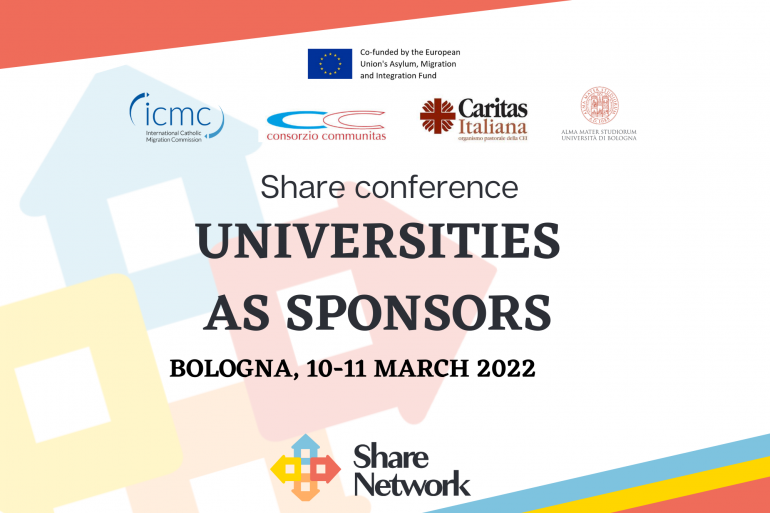 AGENDA How to create legal ways of entry dedicated to female students fleeing from wars and persecutions?  The international conference "Universities as sponsors"dedicated to tertiary education paths for refugees , which will take…
Bologna - 11 march 2022 A Manifesto to strengthen and expand humanitarian corridors dedicated to young refugees students in Europe. This is the ambitious project launched  in Bologna by Caritas Italiana, ICMC (International…
Introduction In partnership with Caritas Italiana/Consorzio Communitas and the University of Bologna, the Share Network, led by ICMC Europe, held an in-person conference on Universities as Sponsors and Tertiary Education Pathways for…
STATISTICS
5% of refugees have access to higher education
2021 has seen a continued increase in forced displacement with global numbers now exceeding 84 million.
While every refugee's story is different and their anguish personal, they all share a common thread of uncommon courage – the courage not only to survive, but to persevere and rebuild their shattered lives.
ED PATHWAYMANIFESTO4REFUGEES
SIGN A MANIFESTO